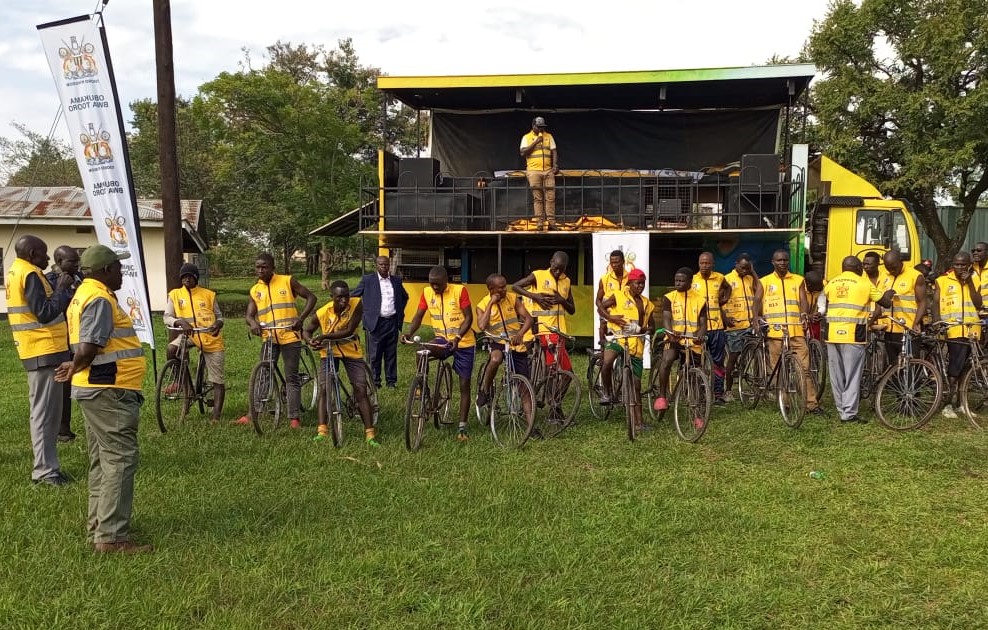 As the final competition draws closer, excitement has remained a staple in the ongoing MTN-sponsored Tooro Masaza bicycle races. With 8 races successfully completed in eight of the nine counties of Tooro Kingdom, preparations for the final MTN Tooro Kingdom bicycle race are in high gear for the people of Tooro.
This first-ever MTN-sponsored Tooro Kingdom bicycle race that kicked off in July has continued to garner crowds as well as participants, with the crowds only getting bigger for every subsequent race. Yesterday, for instance, thousands of people turned up for the MTN-sponsored Tooro kingdom bicycle race that was held at Kichwamba in Burahya County. Over 60 cyclists participated in the event and the top ten winners are set to represent the County at the grand finale to be held in Fort Portal city next month.
Kenneth Murungi, Rimon Muhumuza, Robert Kyomuhendo, Nicholas Mugenyi, Charles Mugisa, Arajan Gumisiriza, Charles Musinguzi, Bright Christopher, John Musinguzi and Baruga Stephen shall represent Burahya County in the final race. They each walked away with a cash-prize courtesy of MTN Uganda.
Gilbert Muhumuza a resident of Kicwamba hailed MTN for sponsoring the Empaka zegaali in Tooro Kingdom.
"I am very happy that MTN is coming in to promote the bicycle race. Some people are participating for their first time but it's fun and we have enjoyed it so much," Muhumuza said.
Prior to this, Nyabani trading center was also painted yellow by hundreds of cyclists who battled it out to secure their spots on the Kitagwenda County team that shall participate in the final race. The participants who will be representing Kitagwenda include; Innocent Tumwebaze, Francis Arinaitwe, Nelson Rukidi, Hillary Ninyesiga, Brian Twesigye, Joshua Mugume, Abdul Serunga, Abraham Nuwamanya, Muhindo Enock and Crispus Tomanya in both the ordinary and sports bike categories. And like all their winning counterparts, they, too walked away with cash prizes.
The Kitagwenda county bicycle race that started at Nyabani trading center and ended up at Kabujogera was flagged off by the Tooro kingdom sports minister Micheal Wandera.
Wandera reaffirmed that MTN-sponsored bicycle racing had traversed the entire kingdom and many people have embraced the sport.
" We have been overwhelmed with the high turn up of people many people have embraced the sport I am happy that the bicycle race which is being held in every county has gone on peacefully and people are turning up in high numbers," Wandera said.
This Saturday, Ntoroko county will hold its bicycle race that will usher the competitions into the final race that is set to be held in September, presided over by the king of Tooro, His Royal Highness King Oyo Nyimba Kabamba Iguru Rukidi IV. The MTN Tooro Kingdom bicycle race is a precursor to Tooro Kingdom's 200th anniversary and is running under the theme; "Tooro Kingdom at 200".
Andrew Tusubira, MTN Uganda's Western Region Business Manager noted that MTN is supporting the bicycle races in Tooro as a way to champion the role of the Kingdom's rich cultural heritage in the social wellbeing of its people.