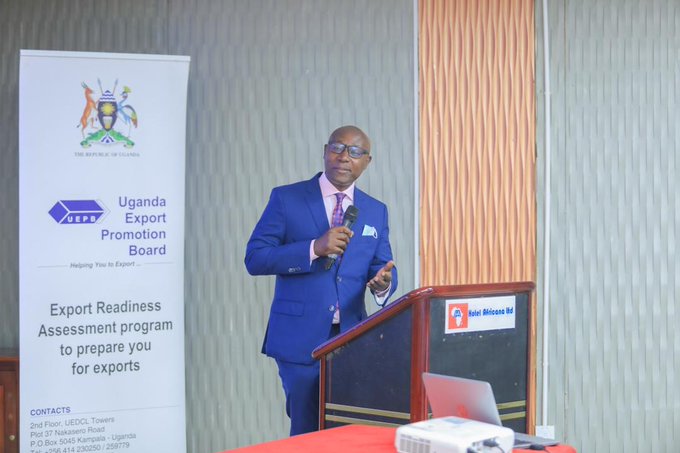 Elly Twineyo Kamugisha, the executive director of Uganda Export Promotion Board (UEPB), has said there is need for a collective effort amongst stakeholders if Uganda is to maximize export growth potential in the agricultural sector.
He said this on June 17 at the opening of the 2022 edition of the National Export Awareness Week (NEAW 2022) at Hotel Africana. UEPB is the government agency mandated to coordinate the growth of exports.
Now in its sixth year, the weeklong edition that ends June 23 is organized under the theme: "Enhancing government efforts for boosting export growth."
The opening session attracted dozens of representatives from development partners, technocrats as well as officials from the ministries of Agriculture, Animal Industry and Fisheries; Trade, Industry and Cooperatives as well as that of East African Community Affairs.
Kamugisha highlighted achievements, opportunities and challenges of the agriculture export sector and urged those present to spread the gospel of the Parish Development Model (PDM) as one of the ways of getting Ugandans out of subsistence farming into the money economy through promotion of exportation of farm produce.
"Unlocking the potential of the agriculture sector hinges on addressing the challenges of the sector like mindset change. Enhancing Uganda's agriculture export competitiveness requires building synergies among value-chain actors and relevant institutions, enabling policies and practices, provision of resources and information by government and other actors, engaging at regional, continental and global level to promote the country's interests," he said.
Indeed, Uganda's agricultural exports have risen by 10 per cent over the past one year alone and Kamugisha is convinced there is still potential to do more.
"In addition to the provision of key supportive facilities, infrastructure and coordination across various institutions that play a trade facilitation role, there is an urgent need to make the private sector in Uganda and the value-chain actors competitive."
During the session on Uganda's compliance to international sanitary and phytosanitary measures, Agriculture ministry officials noted that previously, Uganda suffered interceptions in the European Union due to harmful organisms in fruits and vegetables but after introducing strict observance of the international trade standards, illegal export of fruits and vegetables has reduced.