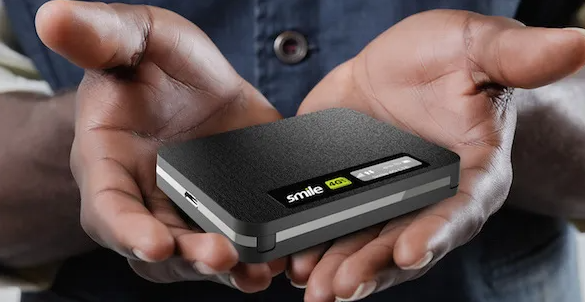 At the end of January 2022, Smile Telecom's 4G LTE network was switched off and until now, the firm continues to encounter challenges on their network that have impacted the service availability. In short, there have been no internet services provided by Smile telecom for 4 months and running now.
Smile Telecom clients are frustrated despite the telecom's promises of switching its network back on soon and not forgetting the promises to revert their lost data bundles. In a recent email to its clients, Smile's Management apologized to all customers and stakeholders who have been inconvenienced, and the company assured customers with unused balances, as a result of the service outage, that they will be fully compensated.
The cause of the ongoing service outage is fundamental and arises from a dispute between Smile and a tower provider (TowerCo), the former in high debt. The parties, unfortunately, failed to reach an understanding, and as the matter is essential to both Smile's past and future operations, this was laid before the Courts of Law and is expected to be concluded on or about 21st June 2022. In the memo, the company was not willing to divulge details of the impasse as the matter is pending before the Court.
The telecom company is still trying other means out of the legal process. The Court process notwithstanding, all attempts are being made to settle so that Smile's network is restored even before the Court rules on the dispute. The regulator,UCC, has been closely following up with both parties to ensure the return of services to our customers and has assisted where it can, for which Smile thanks them.
This is not the first time these disputes are happening, in 2018 Smile Uganda experienced connectivity outages for 3 days running in most locations across the country. According to a statement from the company, this was a result of a failure in resolving an outstanding financial dispute with some of their tower providers, who had opted to disable connectivity throughout the various base stations under their management, especially in areas on Ntinda, Kiwatule, Bugolobi, etc. This time around, the whole network was shut down.
It is still unclear whether former clients of the company are willing to get back to using their services once the network is restored. Some tech pundits we have spoken to feel Smile telecom should just pack their bags and leave. However, the 4G LTE carrier has reassured its clients that it will not relent in its efforts to have services fully restored at the soonest, and its commitment to providing quality services to their remains unwavering. What's for sure is that the network is not likely to be restored anytime soon, unless a miracle happens.